3 Powerful Email Marketing Tools
Pam, an eager student of marketing, meets an expert infopreneur at a party – and grabs the chance to learn from him. This is the  story of Pam's journey towards studying email marketing.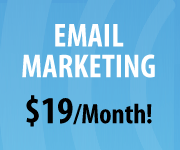 Pam was at Starbucks, seated at a table facing the window. In her hand, she held her portable recorder. Stored inside it was the recent conversation she had with her mentor, a well-known email marketer.
The waitress stopped by with her steaming mug. "Caffe Latte?" she smiled.
Pam absent-mindedly nodded her thanks, her attention focused on the recording.
"There are 3 things you'll need to succeed as a marketer," he was saying.
"You'll need…
The Right Tools
The Right Knowledge
The Right Effort
And You Need Them Right NOW!
Look, if you're even halfway serious about achieving any level of success with information marketing, you must have all three of them.
The right tools will help you get the job done.
The right knowledge will show you how to get it done.
The right effort will actually get things done.
He paused, and Pam recalled that this is where she had interrupted with a question.
"Can't I manage without tools? Won't I be able to figure it out on my own?"
"Well, yes – and yes. The only problem is that it might take you a few years – or decades!
Think about a team of engineers who need to drill a hole through a mountain so a railway track can pass through it.
Imagine them having a discussion about it. What if the team leader said:
"You know, we're not flush with cash. And we're not sure if this idea will work. So instead of getting ourselves a drilling machine, let's just pick up a shovel each and start digging. Once we've made a small tunnel, we can get more powerful machinery to widen it so that the train can pass through."
What would you say to someone like that?
I know!
That's exactly how it'll be to try and build your online business without the right tools and knowledge.
Now that doesn't mean you've got to go out there and splurge all you've got (or max out your credit card) on the most expensive and extensive scripts and programs and courses. In fact, on my website, I'll give you (for free) most of the information you'll need to get up and running.
But you've got to take what you're doing seriously.
As a "business", not a whim, or fancy, or hobby."
Pam nodded soberly at the words, realizing one of the major obstacles which had been holding her back until then. That was about to change!
She tuned back in to the conversation.
"What if you were setting up a store in your neighborhood?
Wouldn't you rent out office space?
Decorate the shop?
Stock it with inventory?
Print out flyers and run ads in the local paper?
All this would cost money. But you'd still do it. Because that's how you build and grow a business.
That's exactly how it works online, too – except that the start up costs are smaller. You can get going with an investment of under $50, if you're really hard up.
Just don't expect to do it for free. Not if you want to succeed in a reasonable amount of time.
Sometimes, it may be practically impossible to afford even a modest amount to purchase the right tools. In that case (and only for as long as it takes you to come up with the cash), you can rely upon free options for the essential tools. But as soon as you can, move over to paid versions.
Here's why. There's a cost to 'free'. It can be high.
My very first email list was built on a free autoresponder service. Around 200 subscribers later, the service went out of business! I lost everything I had built in 2 months – and had to start over from scratch.
You can't avoid getting the right tools. From the very beginning.
So, what are the right tools?
For an online information business, there are just three essential tools:
1. Your web host

2. Your email autoresponder

3. Your domain name
Everything else is optional. These 3 tools are mandatory. Critical. Essential.
1. Your Web Host
Your website is your digital storefront, your own unique corner on the Internet. It's the place where your clients and partners will come to learn about you, find out what you offer, and do business with you.
A Web host serves as your virtual real estate plot, on which you build your website. For that privilege, you pay a modest charge, billed monthly or annually.
Your Web host is crucial because if it fails, no one can access your website. You'll lose money! That's why you need a robust Web hosting service without any downtime, rock-solid security (to keep away hackers), and which is also affordable.
For regular websites, my recommended hosting service is HostGator – click here for details.
For blogs, a well recommended blog hosting service is BlueHost – click here for details.
2. Your Email Autoresponder
Next to your website, your most precious business asset is your database of contacts – prospects, customers and affiliate partners.
Being able to communicate with them in a timely, reliable, and fail-safe manner is worth a lot to your information business. This is why it is worth investing in a high quality email autoresponder service.
An autoresponder will let you set a part of your business to run hands-free. It will also handle the complicated, ever-shifting technical quicksands of email delivery, ensuring that your business communication gets delivered to recipients – and doesn't just vanish in the vacuum of ISP blacklists or get caught up in spam filters.
The email autoresponder service I personally use and highly recommend is Aweber – click here for details.
Another good alternative is GetResponse – click here for details.
3. Your Domain Name
 Imagine going through a day without your own name. Tough, isn't it? Just about everywhere, someone is calling you by name. Your domain name is the name of your website – and an integral part of your online business.
Choosing the right domain name is a fine art. But having any name is better than none. It might be possible to run a website off a free service, using their Web address – but there are numerous benefits to owning your domain name.
It isn't very expensive. It typically costs around $10.
I register most of my domains with Namecheap.com – click here for details.
Get Your Tools Today
If you're even modestly serious about running your information business, you cannot put off buying these important tools.
You can get Web hosting for under $5 a month, get a one-month trial of email autoresponder services from Aweber for just $1, and buy a domain name for $10 – so for an initial investment of barely $20 you can be up and running.
If you're lucky, you might even find great deals and discounts that can save you money (but don't wait too long for that).
So… Are You Ready For The Next Step?
Once you've bought the right tools, and are ready to put in the right effort, it's time to acquire the right knowledge.
It's time to make a decision about which approach to email marketing is right for you. EMAILNAIRE teaches all you need to know about how to build a responsive email list and start selling to it. Learn more about the 12-week program here.


EMAILNAIRE - How To REALLY Profit From Email Marketing - And Be An EMAILNAIRE!
JOIN NOW : Next 12-week eClass Begins Soon! CLICK HERE